In extremis: the case of Anna Pou, M.D.
Let me extend a BIG Balls and Walnuts welcome to Crooks and Liars readers. Yes, you get the BIG Balls (and Walnuts) howdy-do. Come for the political commentary, stay for the Duggary goodness.
***
I may be tardy to the Hurricane Katrina blogswarm (explained by Shakespeare's Sister), but better late than never. Thanks again to Blue Gal, who kicked me in the butt suggested I post something pertinent.
Anna Pou, M.D., is an ENT (ear, nose, and throat doc) who, during the Katrina debacle, volunteered to stay behind to provide basic services to the patients of Mercy Hospital. Last month, Louisiana Attorney General Charles Foti had Dr. Pou and nurses Lori L. Budo and Cheri Landry booked with four counts of second-degree murder. They are accused of euthanizing patients with morphine and Versed (midazolam).
Kevin, M.D. has excellent coverage of the story. Suffice it to say that the facts of the case are unclear, so (in my opinion) the more savvy commentators are reserving judgment.
I'd like to give you my thoughts on this as an ENT and as someone who has worked at a County Hospital under less than ideal circumstances.
Mind you, I don't pretend my experience comes anywhere close to the horrors of Mercy Hospital, but I do think I have enough street cred to tell you one thing: if you weren't there, if you didn't put in your time, shut the hell up. Judge not, etc.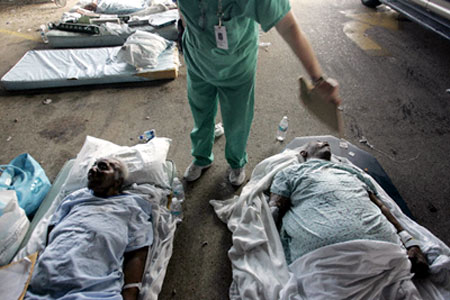 Image: NPR, New Orleans Hospital Staff Discussed Mercy Killings
From the NPR story:
Despite repeated phone calls and letters, Dr. Pou could not be reached for comment. In a written statement, Pou's lawyer, Rick Simmons, said: "Dr. Pou and other medical personnel at Memorial hospital worked tirelessly for five days to save and evacuate patients, none of whom were abandoned." In a telephone interview, Simmons said, "Dr. Pou did not engage in any criminal actions." He said he is confident that the facts will reveal heroic efforts by the physicians and the staff in a desperate situation.
How many of the folks calling for Dr. Pou's head (um, Mr. Foti?) have worked five days straight under extreme conditions? The volunteer doctors at Mercy Hospital undoubtedly had to deal with emotions, fatigue, and agonizing judgment calls for which they had little preparation.
In the early 90s, I worked at LA County Hospital during the Rodney King riots. Again, I do not think this was in the same ballpark as the Mercy Hospital situation, but it made an impression on me nonetheless. The trauma load was phenomenal. We worked as hard and as fast as we could, but the stretchers kept rolling in. Tired does not begin to describe the hour-to-hour grind of this work. Giddy, perhaps. Punch-drunk.
But we could leave the hospital after our 24- to 36-hour call shift. We could go home and get a few good nights' sleep before re-entering the fray. Unlike Dr. Pou, we were able to focus our skills on ENT patients; we weren't asked to treat patients outside our area of expertise.
For a specialist, few things are worse than being asked to treat something outside our specialty. Often, we know less about these problems than the nursing personnel. To take the plunge — to treat someone when we have but shabby knowledge of their condition — feels wrong. It feels like malpractice, or like practicing medicine without a license. Given the choice, we won't do it.
I seriously doubt the volunteer doctors of Mercy Hospital had the choice. I suspect they treated everyone to the best of their abilities, simply because there was no one else around better equipped than they. If I were an ENT in that situation, I would have to say to myself: I'm not an internist (general surgeon, neurologist, anesthesiologist, you name it), but for this patient, I'm a lot better than nothing.
Bad enough to be pushed to the limits of fatigue and beyond, to be confronted with horror after horror, to feel abandoned, to see no end in sight. On top of all that, these doctors were obliged to give what they must have felt was substandard care — a bitter pill for any health care provider to swallow, one which must have caused considerable emotional distress.
My gut feeling is that Mr. Foti is looking for a scapegoat, but like everyone else, I'll wait for the facts to surface.
I do think this case demands us to remember that Dr. Pou is innocent until proven guilty; but for me she'll be a hero, too, until someone convinces me otherwise.
D.