Naked Couch Day, Sans Couch
D: But but but Dean's doing it! In two places, even. And Kris is doing it, too!
K: NO. I will NOT let you humiliate us in public AGAIN.
D: Those leopard skin briefs could have belonged to anyone.
K: Anyone with the fur of a Tasmanian devil.
D: Exactly. And that chair photo left a great deal to the imagination.
K: Really? You thought so? I thought it left very little to the imagination. Just a teensy inconsequential mote —
D: You won't even have to take off your clothes.
K: What?
D: There was nothing in Dean's challenge that said both parties had to be naked.
K: So I'm not going to regret this later.
D: Not at all.
K: But you might regret this later.
D: I would if I had any shame.
Yes, that's precisely what led up to this particular photo shoot . . . yielding an image that captured the zeitgeist of a generation, a cover widely regarded as Rolling Stone Magazine's greatest ever.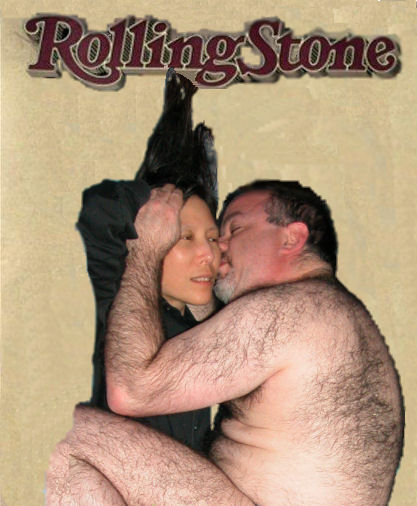 Photo by Jacob Hoffman
(Yes, the only thing squickier than this photoshoppe is the fact we made my son take the photo.)
D.