Who else is (wo)man enough for the nekkid challenge?
Over at Writer's BBS, there's a custom for noobs: you gotta get nekkid. For those square BBSers, getting nekkid means telling something revealing about yourself.
Here in the blogosphere, getting nekkid means GETTING NEKKID. Hell, as for that other getting nekkid, I do it nearly every day I blog. But for the record, I recently gave you this: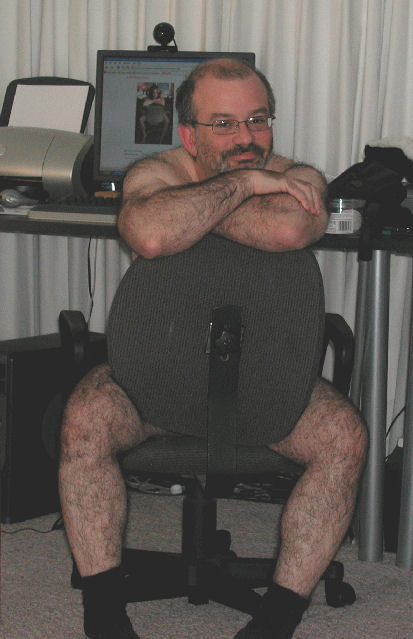 Getting nekkid nekkid, that takes a special breed of cat. Or, should I say, Vixen. Yes, this evening, Dean's very own SxVixen joined the esteemed ranks of nude bloggers. And not to be one-upped, Dean has done it, too. Nice legs, Dean, but next time smile for the camera. It's not a high school football team portrait, for heaven's sake.
Erin O'Brien got the ball rolling, today posting an historical review of nekkid-model- with-chair photography (and she's right. Christine Keeler really is one hot babe). So the question stands: who is next?
Here's my short list of folks I think might be just crazy enough to take the nekkid challenge:
Gabriele! Instead of a chair, you can use some strategically positioned chain mail.
Kate! Impress the hell out of your sons. Or squick them out, one of the two.
Kris! You've already given us clickable cleavage. Now we want a bit o' thigh, too.
Candy! You'll be the talk of the Smart Bitchery.
Monica! I would never forgive my own cowardice if I didn't include you on this list. I figure you'll either (A) oblige the request, or (B) come up here and kick my sorry ass. Either way, you'll be satisfying a fantasy.
No guys on the list . . . imagine that. But of course, you have Dean and me. That should be enough manhood for the whole blogosphere.
D.
P.S.: If I didn't put you on the list, please do not be offended. The more people I include, the greater the chance someone really will come out here and kick my ass . . . probably some smelly biker named Bubba.
Which is not one of my fantasies.