Mee krob is one of those pain in the ass Thai dishes that even the Thai restaurants rarely make. Back in Crescent City, we had a lovely restaurateur/chef who would make it for us if we begged prettily. Aside from her* mee krob, most others have been overly greasy, or have used too much sauce such that the rice stick becomes soggy.
Every so often I get it into my head to try to make this stuff, and oh boy does it make a mess. Conceptually, it's similar to Pad Thai, but the additional step of deep frying seems to raise the difficulty by an order of magnitude. Oh, well. Consider it part of the Thanksgiving feast, a few days late.
Here is, roughly, what Mee krob ought to look like: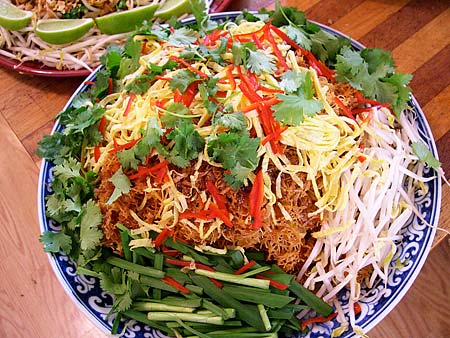 The basic idea is that you have fried rice stick (Chinese is mai fun) dressed with a sticky, peppery sweet/sour sauce, then tossed with sauteed green onions and red peppers, scrambled eggs, and a variety of other things, including garlic, tofu, fresh cilantro, freshly chopped green onions, and meat if you like. I used some leftover chicken breast and a few shrimp. You dress the thing with the cilantro, chopped green onions, some un-sauteed red pepper slices, and bean sprouts.
Here's the basic recipe I used, but I had to adapt it. I knew the sauce would be all wrong — way too salty for starters.
If you can find whole tamarind, you can probably find tamarind paste. It's at most Asian markets. I used two tablespoons of paste with two of water. But here's my sauce — you can compare to the original if you like, but trust me, this is the real deal:
4 tablespoons tamarind juice (see above)
4 tablespoons fresh lime juice
3 tablespoons brown sugar
1 tablespoon Vietnamese fish sauce
1 teaspoons lime zest
1 heaping tablespoon tomato paste
1 tablespoon Chinese red pepper sauce
Combine the ingredients and simmer until it begins to thicken. Set aside. Ideal consistency is a bit thicker than room temperature pancake syrup. Too thick and it won't incorporate into your fried rice stick easily, and too thin and it might soften your rice stick.
The sauce can be made ahead. The next step is to prepare your various vegies: separate the white and green parts of the green onion; chop your cilantro and your red pepper — I used red jalapenos; wash your bean sprouts. Dice your tofu and dry it on paper towels. Dice four cloves of garlic.
Lightly fry the tofu, then place in the oven to keep warm (I used a 300 F oven).
Saute the white part of the green onion with some of the red pepper, and once the onion is nearly done, add the garlic. VERY lightly saute the garlic (you don't want to make it bitter!) Keep the sauteed vegies warm in the oven.
Saute your shrimp if you're using it. I added a tablespoon of the sauce while sauteing to add flavor. Put the shrimp in the oven to keep warm.
Fry up your rice stick. Here are some tips: unless you have a huge deep fryer and want to use a ton of oil, pre-cut the rice stick using kitchen shears. Rice stick will fly everywhere, so put the "bale" of rice stick into a gallon bag, then cut it with shears. You are trying to create flatter "bales" so that they will submerge in less oil.
Set your rice stick aside on paper towels.
Once you've made the rice stick, the clock really starts ticking, since this stuff goes stale FAST. The only thing left is the egg. The linked recipe recommends dripping egg into the hot oil. I did this in batches, and the way I did it was to put two scrambled eggs into a sandwich baggie, seal it, then snip a little hole at one corner. Swirl the egg into the hot oil.
Everyone should do this at least once just because it's fun. BUT. This is easily the greasiest part of the dish, so in the future I will forgo the scrambled eggs in oil bit and do it the Pad Thai way (make an omelet and cut it into strips).
Toss together your sauteed vegies, sauce, and rice stick. Use a big bowl or else this will be damn near impossible. You can put your other warm ingredients on top or on the side. Finish with garnishes of bean sprouts, cilantro, green onion, and red pepper.
It's beautiful and the flavor is decadent. It's the closest thing that a main course ever comes to being dessert — probably because of all the greasy stuff and the sweetness of the sauce. You may note that I cut down on the brown sugar by 1 tablespoon, but it's still fairly sweet . . . as it should be.
This isn't something you'll do once a week, or even once a month. But for an occasional treat, and probably for company (provided EVERYTHING else can be made in advance and kept warm), it would be a show-stopper.
D.
*Her name is Koon and her restaurant is Sea West, a true gem. Indeed, the two best restaurants in that town are Asian. Thai House (a Vietnamese restaurant — don't ask) is the other gem.