The last Indian cookbook you'll ever need
I own other Indian cookbooks, but I don't use them. Julie Sahni's Classic Indian Cooking is the one I keep coming back to, thanks to its scope and reliability. Some of my favorite recipes: dry-cooked spicy ground meat (a filling for samosas), cauliflower fritters, spicy potato filling (great for samosas or as an addition to any meat pie), and fragrant buttered greens.
Last night, however, I had a different problem: what should I do with my leg of lamb leftovers? One of the main reasons I avoid buying leg of lamb is my loathing of waste. We eat perhaps one-third of the roast, and if I'm not careful, the other two-thirds ends up in the trash. As you probably know, lamb does not keep well for very long.
Fortunately for me and my family, Julie Sahni gave me an idea what to do . . .
Chickenless Velvet Butter Chicken
Makhani Murgh solves any leftover meat problem. Julie Sahni recommends it for leftover tandoori chicken, but it did wonders for my lamb. I suspect this would kick ass for strong-flavored seafood like shrimp, and would work equally well for beef or pork. The sauce is silky, rich, and spicy, fine for low carb diets, but a disaster for low fat diets, as you'll soon see.
3 cups canned tomatoes in puree, or 4 cups chopped fresh ripe tomatoes
4 green chilies, seeded (or substitute 1/2 teaspoon cayenne pepper, or to taste)
2 tablespoons minced fresh ginger
10 tablespoons unsalted butter
4 teaspoons ground cumin
1 tablespoon paprika
2 teaspoons Kosher salt
1.5 cups heavy cream
2 teaspoons garam masala
2 teaspoons ground roasted cumin seeds (optional, and I usually leave this out — the recipe is cuminy enough as is)
1/4 cup firmly packed minced fresh coriander leaves (cilantro)
1. Place tomatoes, green chilies, and ginger into an electric blender or food processer, and blend to a puree.
2. Place 8 tablespoons (1 stick) of butter in a heavy bottomed pan over medium heat. And what is the last heavy bottomed pan you'll ever need? This baby: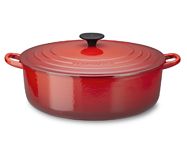 My Le Creuset Dutch oven. Oh, how I love it. And yes, I would marry it. Back to the recipe.
Melt the butter. If you are using this recipe for raw meat — shrimp, for example — now is the time to do a quick bit of cooking*. If you are using cooked leftovers, proceed at once to step 3.
3. Add cumin and paprika to the pan and cook, stirring rapidly, for 10-15 seconds. Add the tomato puree and cook, uncovered, until the sauce is thickened, about 5-8 minutes, stirring constantly to prevent sticking and burning.
4. Add salt, cream, and meat. I used approximately 1.5 pounds of medium rare lamb from my leg of lamb roast, trimmed of fat and diced into 3/4 inch (roughly 2 cm) cubes. (I made no attempt to get rid of the spice mixture which coated much of the lamb. These spices integrated quite nicely with the sauce.) Stir to coat the meat. Reduce heat to medium low and simmer, uncovered, until the fat begins to separate, about 10 minutes. Stir often.
5. Stir in the remaining 2 tablespoons of butter, garam masala, and roasted cumin if you are using it. Turn off the heat and let the dish stand, covered, for 1/2 hour before serving. When ready to serve, heat thoroughly, correct for salt and pepper, and fold in the chopped cilantro. Serve with basmati rice.
I skipped the bit about letting it stand covered for 1/2 hour. Who has time for that? I think the idea is to allow the flavors time to blend, but honestly, this stuff is die and go to heaven right from the start. I don't think it can get any better.
This dish reheats well. Julie Sahni recommends that if you need to perk up the flavor, add a bit more garam masala, ground roasted cumin, and chopped cilantro before serving.
D.
*You'll be cooking the meat later on. Here, you would only need to 'par-cook' it. After you have done so, remove the meat, set it aside, and continue on with the recipe.