A public service announcement
On an intellectual level, I've been aware of an increased rate of oropharyngeal cancers in nonsmokers in the last ten years or so, but I only really woke up to it after having two such patients fall into my lap within the last several weeks. Seems I can no longer say, "If you've never been a big smoker or drinker, you have extremely little chance of getting throat cancer." I'll have to modify it to say, "If you've never been a big smoker or drinker, and if you've never had sex, you have extremely little chance of getting throat cancer."
Yeah, you heard me. This is the bugger: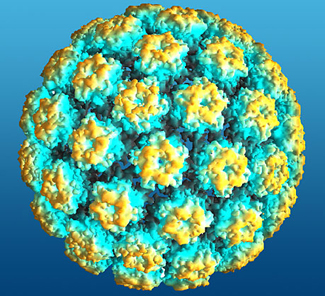 That's the human papillomavirus, or at least it's a fetchingly colored depiction of HPV. And for today's public service announcement, the key facts are these:
1. HPV is an important cause of cervical cancer. Apparently, and not surprisingly (since mucosa is mucosa, after all), it's also associated with many oropharyngeal squamous cell carcinomas.
2. The HPV2 and HPV4 vaccines protect against most of the HPV serotypes causing cervical cancer and genital warts. Safety data is quite favorable:
Serious adverse events and deaths were evaluated in a pooled safety analysis that included 29,953 females aged 10 through 72 years (16,142 received HPV2). Proportions of persons reporting a serious adverse event were similar in vaccine and control groups (5.3% and 5.9%, respectively), as were the types of serious adverse events reported. In the pooled safety analysis, including 12,533 women who received HPV2 and over 10,730 in the control groups, incidence of potential new autoimmune disorders did not differ (0.8% in both groups).
3. HPV-related oropharyngeal cancers are on the rise. Unlike the typical throat cancers, which are associated with heavy alcohol and tobacco use and poor oral hygiene, HPV-related oropharyngeal cancers are associated with having multiple sexual partners. (But all it takes is one bad apple, you know?)
4. It does not seem like such a great stretch to argue that boys as well as girls should receive the HPV vaccine, particularly since HPV is also associated with anal and penile cancers. It's safe and effective, so why not do it? Seems logical to me, but there are people who take the other side. (For the "pro" side of the vaccinate-boys argument, click here.) As best I can tell, the arguments against vaccinating boys comes down to: it's too much trouble, it's too expensive, boys will benefit anyway if enough girls get vaccinated, and HPV-related cancers really aren't that big of a deal.
5. On that last point: while it is true that the HPV-associated throat cancers are more sensitive to radiation therapy and have a better prognosis than the smoking-and-drinking throat cancers, people can still die from HPV throat cancer.
So I think it boils down to "what is the worth of a life." Cost effectiveness arguments make a lot more sense when there are two edges to the sword*. For example, should all men above a certain age be tested for PSA, the tumor marker for prostate cancer? It's a little controversial, and it's more than the cost of the test that is debated. The issue is whether an elevated PSA leads to unnecessary tests or treatments, all with potential for harm. (The LA Times has a good piece on this issue.)
I don't see the double-edge to this sword. These are safe, effective vaccines.
I know what I'm recommending to my son.
D.
*In which case the cost, as a matter of public health policy, is still only one small part of the overall debate.