Tonsillectomy redux
I feel like the publisher of Playboy. While most of my hits come from this cleavage photo or that J-Lo butt photo, occasionally rarely, newcomers are here to read things. In response to last year's post on tonsillectomy, KC writes,
here's one for ya…. i used to get tonsillitis a lot as a child. my mom asked the dr. if he thought i should have them removed and he said "No, they'll probably rot out on their own." What the HECK? I don't have trouble with tonsillitis as an adult, but I do have crypts in them like crazy so suffer the dreaded tonsil stones. YUCK. Wish I had them out years ago so I wouldn't have these nasty tonsil stones to deal with.

What's up with my doctor saying that my tonsils would rot out on their own?

This was in the 1970's by the way.
KC, I have an answer for you . . . below the fold.
But first, a visual aid.
These are tonsilloliths (tonsil stones):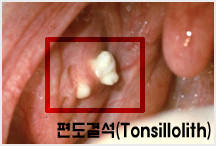 First, I'd like to address some common misconceptions.
Tonsil stones are not "trapped food." They are a byproduct of all the dead epithelium which sloughs off from the lining of the crypt (the pits that dot tonsils are known as "crypts," and if you've ever smelled a tonsillolith, you'll know why).
The problem will, on rare occasion, resolve without treatment.
Antibiotics usually don't help.
Removing a male child's tonsils will not render him sterile.
Yes, that last one isn't relevant to the discussion, but it comes up in office discussions more often than you might think.
Another misconception is the idiocy espoused by KC's doc from the 70s: do nothing, and your tonsils will rot away. Well, not exactly. Under ordinary circumstances, tonsils shrink over time. By adulthood, they may appear to be absent, but trust me, they're still there. Under no circumstances do they ever "rot away."
Under less than ordinary circumstances, the tonsils remain chronically infected. Patients with chronic tonsillitis complain of a persistent irritation when they swallow, perhaps even pain, and frequent problems with tonsil stones. These grow slowly until the foreign body sensation becomes so annoying, the person picks out the stones, or pokes them out with a Q-tip or other utensil. Humans are ingenious when it comes to sticking foreign objects in their orifices.
Treatment for these buggers: tonsillectomy is the only sure-fire cure, but some people prefer less drastic measures. Adult tonsillectomy can be very painful, and the risk of hemorrhage is greater in adults than in kids. If you don't want your tonsils out, you might prefer to blast out the stones with a modified water-pik, which my ENT friend Murray Grossan sells. Or you can try using the enyzmes papain and bromelain, which Dr. Grossan also sells (as Clear-ease — same link). You can bet I would try both products before I ever let anyone take MY tonsils out.
But I keep dodging the question. Why did KC's doc tell him something so bogus? It's hard to say. Perhaps he had a patient who had had a bad outcome from a tonsillectomy. Deaths are rare, but not nonexistent. (My town's previous ENT lost a patient.) Doctors are human; a tragedy like that tends to change your practice of medicine, even if a rational examination of the data would NOT support a change in practice.
When it comes to the young patient, some pediatricians and family practitioners are very anti-surgery. Some docs hang onto their patients for years, treating them with this or that antibiotic rather than asking for a surgical consultation. Occasionally, such a practice is prudent, but all too often, this falls below the standard of care. In my field, we see this not just with recurrent acute tonsillitis patients, but also with kids who have recurrent ear infections, chronic problems with fluid behind the ear drums, and kids who have nasal obstruction. (If the stuffy nose is due to big adenoids, no amount of antihistamines or antibiotics is going to clear things up.)
I don't have a good explanation for this prejudice. Yes, in the past, some surgeons were too eager to take out tonsils. Nowadays, we have good numerical guidelines to help us make these decisions. Do we have surgeons who are cut-happy, who disregard these guidelines? Probably a few; not many, I suspect. But is that any reason to withhold the option of surgery from a kid who needs it? I don't think so.
You would think in this Internet-savvy age, fewer parents would get fooled into accepting their kid's doctor's word as THE last word. But some folks are like that. Go figure.
D.