As any pediatrician will tell you, the scary thing about infants and toddlers is how fast they can go down the tubes. Humans are complex systems held in check by a variety of buffers and homeostatic feedback loops (there! four years of med school in 16 words), and the smaller the human, the more delicate those buffers and feedback loops. It doesn't take much to go from eating-drinking-pooping to starving-dehydrated-feverish when you only weigh eight pounds.
How much worse, then, to weigh a fraction of a pound?
This week, our ferret Buehler (named by DCR in this contest, and pictured below — as a much younger weasel) went from eating-drinking-pooping to starving-dehydrated-feverish overnight. I noticed the problem in the morning, and by the time I got home in the afternoon, he looked moribund. We lost Buehler's pal Harmonica last year, possibly because I underestimated how fast these little guys can plunge. And Harmonica only had an eye infection, whereas Buehler looked much, much worse.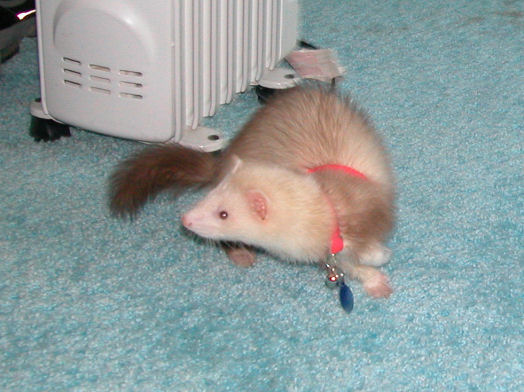 I dithered on the question of taking him to the vet. He looked hopeless. He lay motionless in my arms, breathing fast, hot as a poker. I was able to get him to drink some water, but not much, and he wouldn't take any food.